Education & Outreach
LSU Discover Day 2020
LSU Discover Day Awardees, Sai Pochana and Gracie Wilburn, presented data from the "TIGERKids" project at LSU Discover Day in April 2020. Congratulations, Sai and Gracie!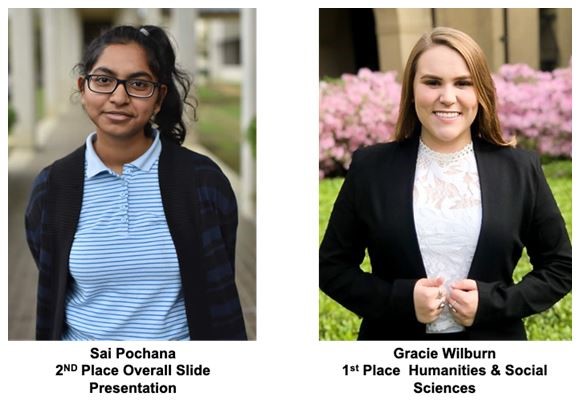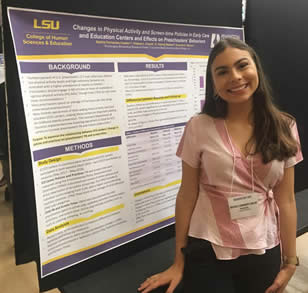 LSU Discover Day 2019
Beatriz Fernandes-Coelho presents data from
the "Pause & Play" project at
LSU Discover Day in April 2019.
Elizabeth Joseph also presented data
from her undergraduate honors thesis.
Congratulations, Bea and Lizzie!
2019 Health Summit:

Working Together for Louisiana Children and Families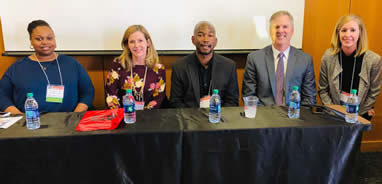 The Pediatric Obesity & Health Behavior Lab was happy to participate in the Planning Committee of the 2019 Health Summit, hosted by the Louisiana Center for Health Equity and held at Pennington Biomedical on April 2, 2019.
Dr. Staiano moderated a panel on Promoting Healthy Living with speakers (from left) Kenyatta Royal, Senior Youth Engagement Coordinator for Tobacco Free Living, Louisiana Public Health Institute; Dr. Jessica Kemp, Vice President of Center for Planning Excellence; Principal Donald J. Sanders, III, of Raintree Elementary in St. Mary Parish; and Superintendent Wes Watts of West Baton Rouge Schools.
The Obesity Society's
ObesityWeek

Scientific Conference, Nashville, Tennessee, November 2018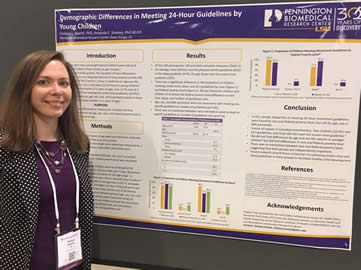 Dr. Chelsea Kracht presented data on
demographic differences in meeting 24-hour
guidelines by young children from the Pause &
Play study at The Obesity Society's annual
conference.
TIGER Kids data were also presented in three
poster presentations by Dr. Amanda Staiano,
Dr. Nicole Fearnbach, and Dr. Maura Kepper on
behalf of Kara Denstel.
LSUHSC Medical Student Research Day

New Orleans, Louisiana, October 2018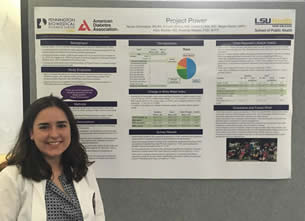 LSUHSC MD/MPH candidate Nicole Dominique won 2nd place in the annual LSUHSC School of Medicine's Medical Student Research Day in New Orleans in October 2018. Nicole was an instrumental team member for the Project Power camp, co-sponsored by American Diabetes Association and American Council on Exercise for children at risk for type 2 diabetes. Congrats to Nicole on this honor!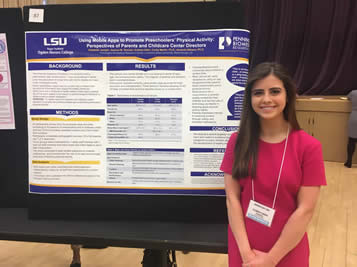 LSU Discover Day 2018
LSU Ogden Honors College junior
Elizabeth Joseph presents focus group data from the "Pause & Play" project at LSU Discovery Day in April 2018. Elizabeth also presented an oral and poster presentation at the Society of Behavioral Medicine annual conference in New Orleans in April 2018.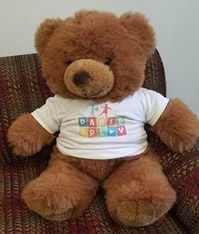 Teddy visited 10 childcare
centers in Baton Rouge for our
Pause & Play Study!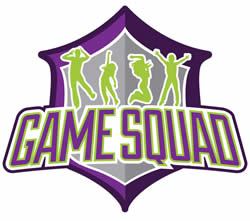 GameSquad Featured

on the LSU Jumbotron at the LSU
Football Game!
Click here to check out the feature.
Childhood Obesity Treatment:
A Toolkit for Louisiana Primary Care Providers
The U.S. Preventive Services Task Force recommends that clinicians screen children aged 6 years and older for obesity and offer them or refer them to comprehensive, intensive behavioral intervention to promote improvement in weight status. Baptist Community Ministries and Pennington Biomedical Research Center provide the following toolkit as a summary of best practices to assist primary care providers in providing preventive and treatment services for childhood obesity. Click here to access the toolkit.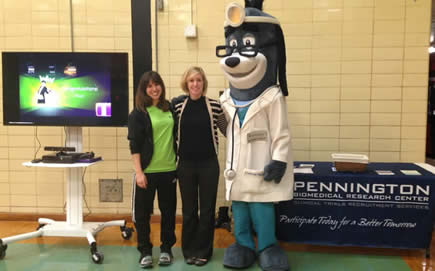 Project Manager Arwen Marker, Dr. Staiano, and Health E. Hound
Recruiting for Klub Kinect at Broadmoor High School Health Fair
PANTHER Project
Physical Activity and Nutrition for Teen Health (PANTHER) Project
Pennington Biomedical is proud to partner with Health Centers in Schools and Our Lady of the Lake Regional Medical Center to deliver PANTHER, a school-based physical activity and dietary counseling program designed by Pennington Biomedical scientists and delivered to a local public high school in an under-resourced neighborhood in north Baton Rouge. The PANTHER Project is intended to train staff and refine logistics of program delivery for future school-based pediatric weight loss and wellness studies. PANTHER adapts the Diabetes Prevention Program to the audience of teenagers, providing a condensed and teen-friendly curriculum delivered in a group-based setting via the school-based health center. Preventive Medicine fitness trainers under the supervision of Dr Amanda Staiano deliver physical activity sessions twice per week, and registered dietitians under the supervision of Dr. Cathy Champagne deliver weekly dietary counseling sessions and a family trip to the grocery store. The main outcomes are changes in BMI percentile, walking endurance, health behavior, and health knowledge. Information gathered from this pilot program will be reported to the funding agency and used to design future research studies. Funding was provided by the WebMD Foundation to the Health Centers in Schools.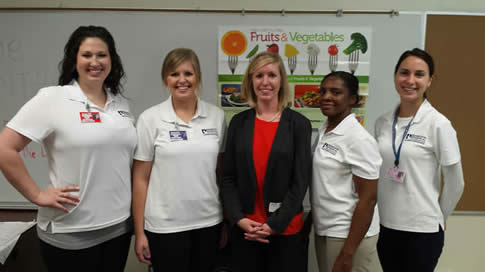 Leighanne Kiggans, Alexandra Gillio, Dr. Staiano, Erma Levy, and Brooke Bayham
Celebrating the PANTHER Program at Glen Oaks High School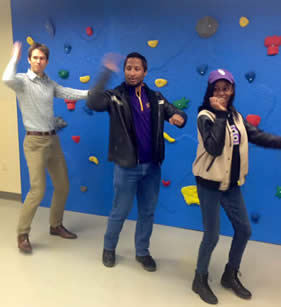 LSU College of Agriculture
In January 2015, we entertained a group of LSU College of Agriculture students by giving a tour of the TReCC, providing details on our pediatric exercise trials, and even doing a "Dance Off" in our exergaming room. To the right, "Gaming Coach" and preventive medicine research specialist Cory Lemon dances with two of our LSU guests.
Camp Quest
In June 2014, our team from Pennington Biomedical was excited to deliver a physical activity and dietary lesson to the students at Camp Quest, a summer camp for elementary school children that focuses on science, technology, engineering, and math. Lab members Courtney Wright and Cullen Hodges, along with Preventive Medicine fitness trainer Matt Abboud, adapted lessons from the PANTHER project to show the campers how research is used to teach positive behaviors for life-long health. Camp Quest is a collaboration between the Interdenominational Faith Assembly and Solvay, a chemical corporation with a branch in Baton Rouge. Click here to read a news article about Camp Quest.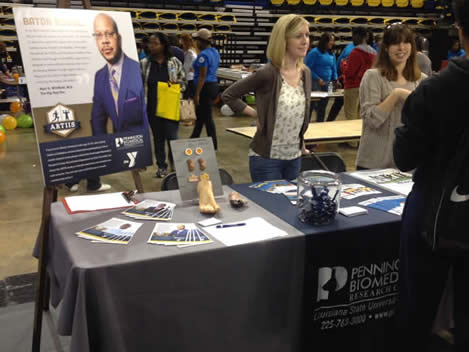 Dr. Staiano and Arwen Marker recruit participants for Klub Kinect at the
Martin Luther King, Jr., Day of Service at Southern University, January 2014
Community Engagement and Outreach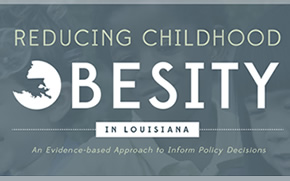 Reducing Childhood Obesity in Louisiana
An Evidence-based Approach to Inform Policy Decisions
Professional Engagement and Outreach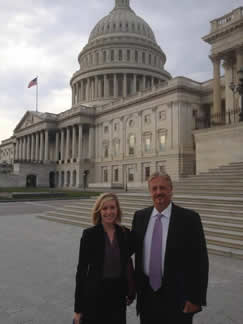 Lobbying on Capitol Hill
Dr. Staiano joined Dr. Martin Binks and other members of The
Obesity Society and Obesity Action Coalition to lobby on
Capitol Hill for the "Treat and Reduce Obesity Act" in
September 2013.

Mission: Through research, education and advocacy, to better
understand, prevent, and treat obesity and improve the lives of those
affected.
Dr. Staiano serves as Co-Chair of the Public Affairs Committee and as
elected fellow of the Pediatric Obesity Section for The Obesity Society.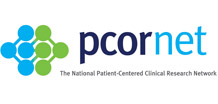 Patient-Centered Outcomes Research Institute
PCORnet, the National Patient-Centered Clinical Research Network, is funded by the Patient-Centered Outcomes Research Institute (PCORI) with the vision to increase the amount of information available to healthcare decision makers and the speed at which it is generated in order to help patients and their caregivers make better-informed decisions. Dr. Staiano serves as task force member of the Obesity Task Force for PCORnet. Read more about PCORnet here.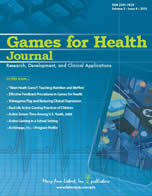 Games for Health Journal
Games for Health is a bimonthly peer-reviewed journal dedicated to the
development, use, and applications of game technology for improving physical and
mental health and well-being. The Journal breaks new ground as the first to address
this emerging, widely-recognized, and increasingly adopted area of healthcare. The
journal is under the editorial leadership of Editor-in-Chief Tom Baranowski, Ph.D.,
Baylor College of Medicine. Dr. Staiano serves on the editorial board. Read more
about Games for Health Journal here.