Trail Mix Popcorn Pops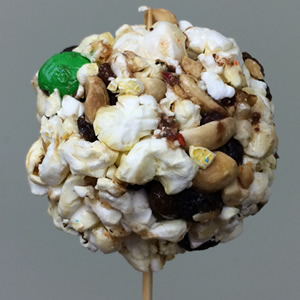 Ingredients & Materials
¼ cup honey

6 cups air popped popcorn

2 Tbsp chopped peanuts*

2 Tbsp raisins or dried cranberries

2 Tbsp crushed candy coated chocolate pieces

Cling Wrap

6 Skewers, wooden chopsticks, or popsicle sticks
Directions
Measure honey into a microwave safe bowl. Microwave on high for 30 seconds, and then stir the honey. Continue microwaving for 1 minute, stopping and stirring as needed to prevent the honey from boiling over.  Set the honey aside to cool slightly for 1-2 minutes.
Measure the popcorn into a large bowl. Drizzle the slightly cooled honey over the popcorn, then sprinkle the peanuts, raisins, and crushed chocolate pieces over the top. Gently stir the mixture together, trying to equally distribute all ingredients.
Scoop one sixth of the mixture into a square of cling wrap, fold the cling wrap around the mixture and press it into a ball shape.  Cut a skewer to the desired length, and press it into the popcorn ball. Repeat this process until all of the pops have been formed. The pops can be eaten immediately, but will stay together better if left to cool for 30 minutes.
*For kids with nut allergies, the peanuts in this recipe can be replaced with rolled oats, high protein breakfast cereal like Special K Original or Kashi GoLean, or seeds like pumpkin, sunflower, or flax